Gary Active Brief Deconstructed: Slim Fit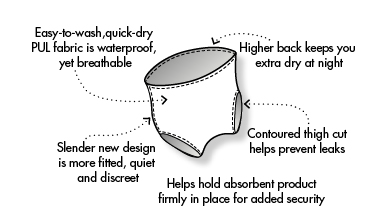 When we first tested our Gary Active Brief in user groups, we learned that the slim fit of our incontinence pants mattered for men and women both. Perhaps it goes without stating, but when an active adult manages his incontinence, he wants discreet products that fit under his regular clothes. No one wants to wear a bulky incontinence diaper that bulges under his clothes. Today, we will deconstruct the slim design of the Gary Active Brief and closely the benefits.
Fits Under Regular Clothes
This attention to a slim-fit design in our adult diaper cover means that men and women can wear the Gary Active Brief incontinence pant over their diaper for extra confidence. And not get noticed or notice it. The slim fit of our incontinence pants means that our customers can continue to wear their favorite pair of jeans because the Gary Active Brief fits comfortably underneath.
Less Fabric Means Less Rustling
But sometimes, it's the noise of bulky incontinence products that make our customers feel noticeable.  That's another benefit of the slim design of our incontinence pants.  Men and women tell us that they feel the Gary Active Brief is more discreet because it has less fabric rustling. It's simple math, really—the less fabric you have to manage, the less noise our Gary Active Brief makes.
Fits Like a Second Skin
Our user groups also told us that many adults dealing with incontinence feel frustrated when their absorbent guards, pantiliner, pad or diaper move out of place, which causes leaks.  That's why our test group loved the slim fit of our Gary Active Brief. It fits like a second skin to hold your absorbent in place, but it allows enough room for your diaper to grow and expand with moisture.
Higher Cut For Added Protection at Night
We manage all of this without sacrificing the higher cut in the back. Our customers appreciate the extra protection against moisture that can pool in the lower back region, especially over night.
What do you think are the benefits of the slim fit?