Need help dealing with incontinence? Allow us to introduce you to NAFC.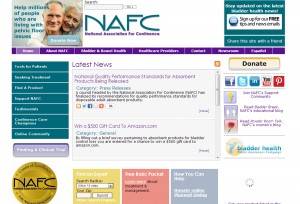 Earlier this month, I received a letter from National Association For Continence explaining everything that it accomplished in 2013—its 30th year of business.  This group utilizes education, collaboration and advocacy to support people affected by incontinence. Among the facts that it shared from 2013 was that its website exceeds 55,000 monthly visitors.
55,000 people?
Wow, what a reminder that you're not alone. That's likely 55,000 people looking for support, information, research and help to guide them through the physical and emotional impacts that incontinence causes. The association is a true asset for our community, for those affected by this medical condition that is often too taboo to openly discuss.
Speaking of normalizing this issue, another of its accomplishments from the year includes a public awareness campaign leading up to Nation Bladder Health Week.   The website shares a wealth of information about bladder health in easy-to-understand ways. You can watch videos on its youtube channel, follow them on twitter and like them on facebook. Each one of these mediums has useful tips, interesting facts and stories.
One item I saw on the website today was a blog post about bad bladder habits.  According to the site, our body uses frequent urination to keep our bladders in healthy shape. This means if we hold the urge to urinate for long periods of time while we are young or during work as adults, we could potentially harm our bladder health. It's information like this that makes this site eye opening.
Another valuable resource that you can find on the Association's website is a list of products to help you manage your incontinence. If you're new to living with incontinence, this list of products can give you a place to start when looking for the right solutions for you. If you've had incontinence for many years, you may find newer products, like our pull-up incontinence pant, and other items to improve how you've historically managed your incontinence issues.
I encourage you visit www.nafc.org to learn more about this organization and experience the depth of support for people living with incontinence.
Make that 55,001.