How to Find the Right Fit for our Pull Up Incontinence Pants
Fit is everything.
GaryWear designed Active Brief, our washable pull up incontinence pants, with a snug fit. This helps hold your absorbent pad in place, minimize bulk and noise and ensure security from leaks.
Our customers continually rave about these benefits when using our pull up incontinence pant to help them manage full bladder and bowel releases. We believe our customers have consistent successes managing their incontinence because it's easy to find the perfect fitting Active Brief using these simple steps.
1. Thigh measurement
The most important measurement for preventing leaks is the thigh measurement. Below, you can see the fit and size guide for our pull up incontinence pants, which begins with the thigh measurement. (You can download it here.)
To get an accurate thigh measurement, stand and measure around the top of the thigh. Be sure to keep the tape straight and parallel to the floor and measure around the fullest part.
2. Waist Measurement
You should find your waist measurement around your natural waistline, which is the smallest area of your waist.
This measurement protects against nighttime leaks that may occur at the lower back region.
3. Hips Measurement
To measure your hips, stand with feet together. Keeping your tape measure straight and parallel to the floor, measure around your fullest part.
Remember that our Active Brief pull up incontinence pant fits snug, and we also designed them with enough room accommodate bladder and bowel releases.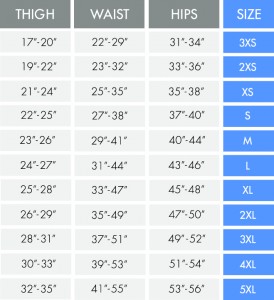 Here are some other fit scenarios to keep in mind.
Should you measure your hips with your diaper on?
When measuring for a proper fit with GaryWear's pull up incontinence pants, measure your hips without wearing a diaper. As you know, diapers are thinnest at the hip area, so we don't have to accommodate for bulk. (Also, we considered the diaper while creating the Active Brief cut.)
What if I'm wearing a cloth diaper?
No problem, just order your Active Brief one size larger.
Can I order my Active Brief based on my clothing sizes?
Clothing sizes don't translate to proper sizes for GaryWear Active Brief. Your pant sizes are based on your waist size, but to get the best fit for your pull up incontinence pants, you should rely on your thigh size.
What if my measurements don't uniformly match GaryWear's sizing chart?
We recommend focusing on the thigh to make sure you have a comfortable fit at the leg. We designed GaryWear's Active Brief to help active adults manage their incontinence while fulfilling their lives. This means, you want to ensure you have a proper fit at your thighs to prevent leaks during the day when you're likely to be standing or sitting.
What if I use pull up pants to prevent leaks during the night?
If you leak at night when you're sleeping, first make sure you are wearing an ample absorbency product underneath our brief.  And, remember to limit your liquid intake after 6pm.  Our Active Brief is cut slightly higher in the back for more coverage and to prevent leaks if moisture pools at your lower back while sleeping.  But because we all have different body styles, and we don't always have control over our bodies, in some cases you could experience leaks in the lower back region in addition to through the thigh areas. If that's the case, considering experimenting with a GaryWear Active Brief that fits tighter at the waist than the thighs.  
What other questions do you have about proper fit for GaryWear Active Brief?