Removing the Stigma from Incontinence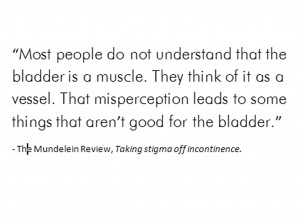 Shortly after its launch, the Simon Foundation for Continence was featured in an Ann Landers column. A few days later they received a call from the post office: 30,000 pieces of mail from people impacted by incontinence had arrived. "The need was unbelievable," said Cheryle Gartley, who started the organization.
I ran across Cheryle's story in "Taking stigma off incontinence," an article by Lenna Scott in the Mundelein Review. It reminded me how many people have incontinence and the myriad symptoms and underlying reasons that they face.
As the article highlights, today's advertisements for incontinence products, like pull up incontinence pants, have normalized the problem to some degree. But tens of thousands of young and aging folks still struggle to manage their incontinence and maintain their self-esteem.
An expert on the issue, Cheryle suggests folks see their doctor and talk about the symptoms they experience. We have to remember that our doctors and nurses have studied all of the problems our bodies face, and talking about incontinence maybe the only path to getting the right solutions. As Cheryle points out, a leak when you lift your grandchild and a sudden urge to urinate are two different symptoms that may have two different diagnoses.
This news article also reminded me that folks of all ages have access to tons of free and easy-to-find information about the best disposable diapers, reusable diapers and pull up incontinence pants the market has to offer. We're proud to be one of the top-ranking pull up incontinence pants on the market today and hope that we're helping people across the nation feel as normal today with incontinence as they did yesterday without incontinence.
Has our pull up incontinence pant helped you remove the stigma from incontinence? We'd love to hear your story.